SAVE THE DATE:

SUPER TAX DAY 02.25.23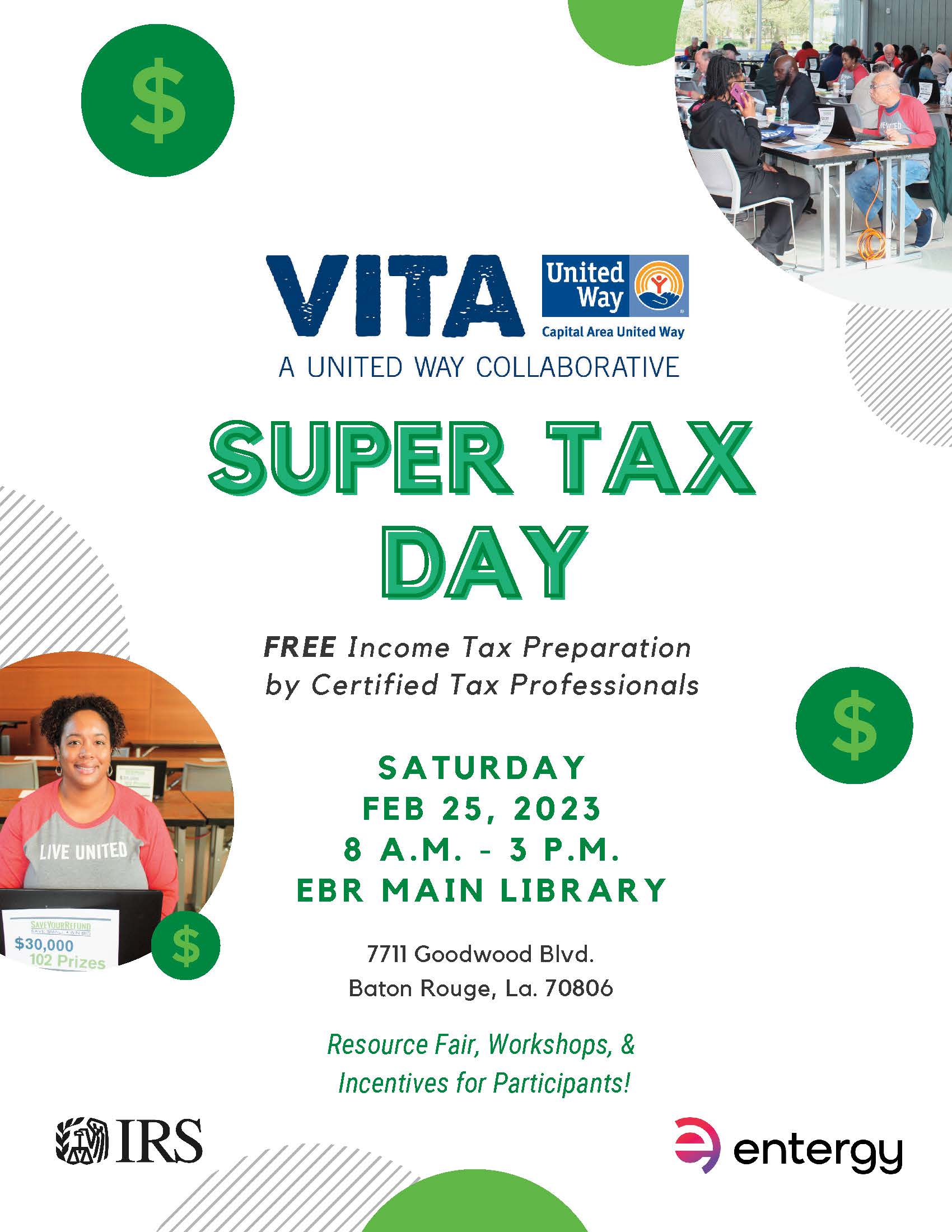 VITA Appointments are NOW OPEN!
What is VITA?


Volunteer Income Tax Assistance Overview and Information
The Volunteer Income Tax Assistance (VITA) program offers FREE tax prep by IRS certified volunteers to low-income individuals, persons with disabilities and veterans. It is a primary objective to help eligible taxpayers receive the Earned Income Tax Credit (EITC) to improve their financial stability. VITA also gives financial information and guidance to clients who are struggling to make ends meet. The EITC refund and service referrals help secure families against financial hardship and potential poverty. Through our efforts, Capital Area United Way (CAUW) will ensure income stability for families and strengthen the Capital Area community.
In 2022, VITA volunteers prepared over 5,900 federal and state tax returns across our 10-parishes, infusing households in our local communities with millions of refunded dollars. The VITA program contributes to individual and family stability by ensuring that qualifying households receive the EITC.
 
Below is the qualifying data for EITC as published by the IRS.
           
Additional Information:
Our sites for the 2022 tax season will offer drop-off or face-to-face models. Please pay attention to calendars - we will try to distinguish the calendars as much as we can. Some may be 30-minute drop-off slots, others may be an hour face-to-face. 
*Self-Serve Options for Households that earned less than $66,000 are also available: 
Items to Bring to Tax Preparation Appointment:
Photo ID (for you and your spouse, if filing jointly)

Social Security Card or ITN for each family member of your household

*All

W-2 forms (wages) and all 1099 and 1098 forms

Child Care provider name, address and tax ID number

Checking and savings account numbers

Last year's tax return

1095-A Health Insurance Marketplace Statement (if applicable)

Other relevant information about income and expenses
Volunteers
Interested in becoming a VITA Volunteer? Fill out our volunteer request form!
   Thanks to our VITA Partners and Funders  


 
                                          
                 
Interested in becoming a VITA partner?  
Read more about our impact in the 10-Parish service area.  And email us at vita@cauw.org to learn more about the ways you can be involved!