New ALICE in Focus Data Launched
United For ALICE has launched a new ALICE in Focus campaign highlighting the harships of individuals in the ALICE (Asset Limited, Income Constrained, Employed) population. The first report, released April 4, highlights children, the second report, released on July 26, discussed disabilities and veterans report to come at a later date. 
View our ALICE in Focus page for all the details.
Meet ALICE
Asset Limited, Income Constrained, Employed:
The ALICE population is those working residents that are struggling to make ends meet, have little or no savings and are one emergency away from falling into poverty. The ALICE Report below sheds light on those struggling in the community that are our neighbors and maybe even our own family members. The ALICE population encompasses every race, age, gender and ethnicity and work in a variety of professions.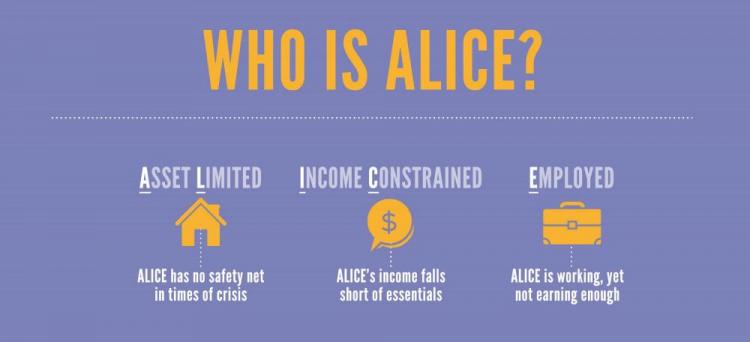 An ALICE Story
Darius and Lashawn are considered ALICE - they are working, yet not earning enough. An unexpected death in their family resulted in financial struggles including losing their home. With nowhere to turn, they sought local programs that could help them get back on their feet. They were connected to a number of CAUW funded programs at Catholic Charities, where they learned valuable budgeting and home ownership skills. Over time, Darius was able to earn his GED and complete a welding program. Lashawn became certified as an armed security guard and immediately went to work at a chemical plant. They are now proud home owners. ALICE individuals and families could be your neighbor, daycare worker, mechanic, or even a student graduating with loan debt. It only took one unexpected moment in Darius and Lashawn's life to turn their financial situation upside down. This could happen to anyone. This could happen to you. The challenges our community face are complex and no single organization can address them alone. At Capital Area United Way, we work with community partners and invest in programs and services that will enable ALICE households to achieve a financially stable future that will set them up for success. United Way and partners were there with support, Darius and Lashawn did the rest.
Where is ALICE?
 

The ALICE Report for Louisiana (released 2020)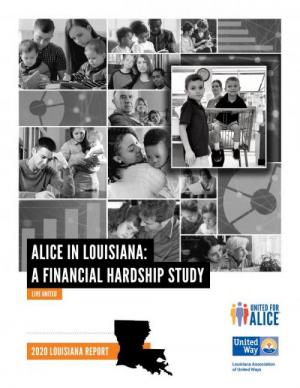 Additional 2020 Louisiana ALICE Information:
For more information on ALICE in Louisiana, visit www.unitedforalice.org/louisiana. 
United For ALICE National COVID Report (October 2021)
Louisiana in the Age of COVID: Through the Eyes of ALICE