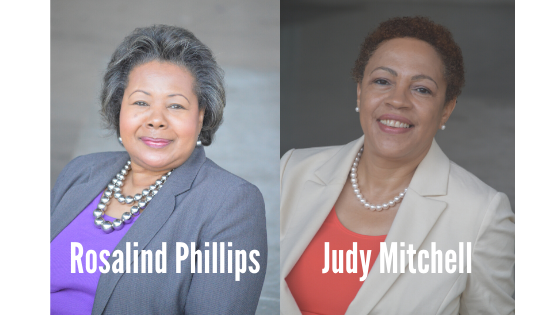 Today is Administrative Professionals' Day, and we are celebrating our Receptionist and Administrative Assistant, Rosalind Phillips, and our Executive Assistant to the President and CEO, Judy Mitchell! Both ladies together total 36 years of service to Capital Area United Way.
As the receptionist, Rosalind, or Ros as she is affectionately called, is the first person you see whenever you walk in the door at the office or the voice you hear on the phone whenever you call the main line. She keeps all of the messages, phone calls and office procedures running smoothly while also ensuring meetings are correctly documented. Most importantly, she is the friendly face and smile that is a representation of Capital Area United Way.
Rosalind's favorite memory of her time at CAUW so far is working her first Jambalaya Jam. "I enjoyed watching the success and the work that went into making it a success," she said. With over 11 years at United Way, Rosalind's reason for staying is her "dedicated and fun coworkers who believe in our mission."
Judy Mitchell has been with United Way for over 25 years as the Executive Assistant to the President and CEO. Over the years, Judy has been instrumental in working with the President and CEO to advance the mission of United Way throughout the community, and she is the point of contact when wanting to meet with George Bell. She also manages employee relations as the head of the Employee Committee.
With a quarter of a century under her belt, Judy has many fond memories, but her favorite is when Capital Area United Way participated in the 1996 Summer Olympics Torch Relay, and the current President was one of the carriers. The need to help our community grow in a positive way is what has kept Judy here for so long.
As administrative professionals, we asked both ladies what that term meant to them. Here's what they said:
Rosalind: "At CAUW I'm able to support our organization and my coworkers by working with every department. "
Judy: "To me it means supporting the work of the organization to promote good positive things."
On a personal level, Rosalind and Judy have many things they enjoy and love, but here are three of them:
Rosalind
I believe in a Divine Purpose our Heavenly Father has for this creation.
I'm going to be a first time grandmother next month.
I love arts & crafts and gardening.
Judy:
I love animals – just call me Dr. Julittle
I have 5 grandchildren that I love dearly
I enjoy long walks
We hope both of these ladies enjoy their day, and we hope they know how much we enjoy having them at Capital Area United Way! Happy Administrative Professionals' Day to you both!
Home Page Image